Company Profile
Since 1971, Century 21 Real Estate LLC. has been the franchisor of the world's largest residential real estate sales organization, with more than 13,600 independently owned and operated franchised broker offices and more than 149,000 professional agents in 85 countries and territories worldwide.

In Japan, CENTURY 21 REAL ESTATE OF JAPAN LTD. was established in 1983, and the first 12 franchise offices in the Tokyo metropolitan area were started the next year. As of the end of March 2023, the number of offices stands at 1,008 nationwide. CENTURY 21 Japan has become the largest real estate franchise system(*) within the country and we would like to thank all our customers for choosing CENTURY 21.

Even though each office is independently owned and operated, all the CENTURY 21 offices are collectively empowered by the global brand recognition and are provided with various learning courses for agents, both new and experienced; managers and brokers; and, IT tools that have been developed for all the CENTURY 21 system members. These are the reasons why CENTURY 21 agents can always be relentless to deliver extraordinary experiences to our customers.

In addition, as our agents are experts in their local markets, you can rest assured that you can rely on CENTURY 21 agents whether you are buying, selling, renting, or leasing a home.

CENTURY 21 REAL ESTATE OF JAPAN LTD., as the franchisor in Japan, is always seeking to provide better services together with its affiliated offices, working hand in hand. CENTURY 21 agents believe in the value of delivering extraordinary experiences by defying mediocrity and always giving you 121%.
* The number of offices in Japan by count as a real estate brokerage business that handles both home sales and rentals according to Tokyo Shoko Research, Ltd. as of July 2022.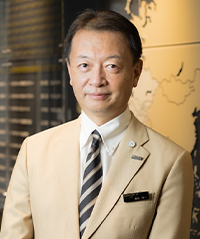 President & CEO
Yoichi Sonoda

CENTURY 21 REAL ESTATE
OF JAPAN LTD.